Expert Gutter Repair Colorado Trusts.
Gutter Repair & Replacement
Elements Roofing is the area leader in gutter repair for Northeastern Colorado and the Front Range, with offices in Sterling, Fort Morgan, Aurora and Denver. We're dedicated to providing speedy, affordable service, high quality materials, outstanding workmanship, and customer service that always exceeds your expectations.
Your gutters are a valuable component of a properly functioning roofing system. Gutter damage leading to water overflow can have expensive consequences for your roof, siding, windows, basement, or foundation – even your landscaping. If your gutters are not regularly maintained, incorrectly installed, or if repairs are not made promptly, what appears at first to be a minor nuisance, can quickly become a costly, stressful headache. 
Elements roofing is here for you! With our years of experience, we can handle gutter repairs for any size or profile of seamless gutters, on homes and businesses.We offer a range of standard and oversize gutter profiles, and a wide array of colors to complement your siding or match your trim, soffits, and fascia. 
Remember, one of today's most popular trends is to use their gutters as an additional accent that can improve your home's curb appeal and value, and update its overall look.
Custom Cut for Flawless Fit

Expert Installation

Lifetime Warranty

Over a Dozen Color Options
20 Years of Gutter Repair Experience

Insurance Experts on Staff

Expert Color Matching

Hundreds of Satisfied Customers
Free Inspection & Estimate

Shingle, Flashing, Attic, Soffit & Fascia Inspection

Gutter Cleanout

Leaf Guard Installation
Materials Used In Gutter Repair
With the proper location and installation gutters and downspouts, water should be directed away from your foundation, protecting your roof, siding and windows. But over time, storms, wind, trees and leaves, and normal wear and tear still take a toll on your gutter. Repairs become necessary to even the most expertly installed gutter system. 
Whatever the cause of your gutter damage, Elements Roofing can fix it.
Quality Materials to Match Your Existing Gutters.
I choose materials for gutter repair with the same dedication to quality I apply when I choose shingles. Whether your home currently has aluminum, copper, galvanized, steel or vinyl, you can rest assured that my team is experienced in matching it with new, custom seamless gutters and downspouts, so seamlessly, you'll never know the difference. 
Another factor to consider when repairing a gutter system is the size of your current gutters. 
Most homes have 5" gutters, which are sufficient to eliminate most rainwater. 5" gutters are fabricated of heavy, .027 guage aluminum and finished with a baked-on enamel protective coating. These are available in a wide range of colors to match your current gutters and are durable and long lasting. %" gutters can be paired with 2"x3" downspouts for typical volume of drainage, or with 3"x4" downspouts if you need a higher volume of drainage.
If you live in an area of the state that gets more rainfall than average, or if you consistently experience water damage or drainage issues, your home may have 6" gutters. While these installations are more effective at moving water away from your home, they too can become clogged and damaged over time. Elements is fully equipped and ready to repair these larger volume systems as well.
While aluminum gutters are the most common in Colorado, we are equally capable of repairing copper, vinyl, galvanized or PVC as well.
If your gutters have become too damaged to fix, we have an impressive team of experienced technicians to replace sections of your gutter, or to perform a complete gutter installation with a variety of top-quality parts and materials. 
Damage Prevention & Gutter Repair
Until you see water damage to your ceiling, unexpected pools of water around your foundation, or yellowed, waterlogged landscaping near the house, gutter repair is probably the last thing on your mind. 
But if your gutters get clogged or damaged and water begins to pool around your foundation, you could be looking at major, expensive damage down the line.
The best way to prevent the necessity of gutter repair to perform regular maintenance and cleaning. We've put together a brief checklist to help you keep an eye out for holes, leaks, clogs, and other gutter issues.
Holes – Branches, ladders, animals like racoons, and dropped tools can all cause creases and holes in your gutter. Sectional systems are particularly prone to this issue, but even seamless gutters are not immune. Homeowners can clear the area where holes have appeared. To patch or plug the holes, call a contractor you can count on – like Elements Roofing – to seal the breaches.
Rust – Rust is another common cause of holes or breaches in gutters and downspouts. If a tree branch or other bit of debris makes a puncture or breaches the enamel coating, rust can make this problem worse. Small patches of rust can be scrubbed or sanded away, but it is possible for the rust to penetrate the metal. When this happens, your best bet is to call a professional to assess the damage. 
Leaks – The most common place where leaks occur are the joints of sectional gutter systems. This is because joints are points where your gutter can flex, causing friction between the 2 sections, which can wear away the protective coating and allow rusting. The joint caulking may fail as well, and if they are improperly installed, the joints can separate. The good news is, these joints can be cleaned and caulked to secure and protect them, and close any gaps.  
Overflow – There are several common causes for gutter overflow:
Clogged –

Your gutter may be clogged with debris, small branches or leaves. If soil has built up over years in the gutter, and you have overhanging trees that drop seeds, it's possible for small trees to take root as well. Simple cleaning can remove clogs, then call Elements Roofing for gutter guard installation.

Steep Pitch –

If the pitch of your roof is too steep, water will rush too quickly off the roof and over breach the side of the gutter or bypass the downspouts. This can also occur to otherwise correctly installed gutters during heavy rains. 

Downspouts Too Small –

In areas with regular heavy rainfall (even in Colorado, this can be the case), a larger downspout diameter may be necessary to handle larger volumes of water.

Poorly Fit Hangers –

If the gutters are not seated properly in their hangers, sections of the gutter may sag, preventing water from flowing adequately. If the hangers are too loose, the gutters might rattle loudly during heavy rains or windy conditions. Choose an experience installer of seamless gutters to properly fit your gutters and prevent this type of overflow.

Pooling –

Water can pool below your downspouts which can damage siding, rot studs, caulse mold in basements, and harm plants and other landscaping components. One of the most common causes of this problem is when the downspout becomes blocked, or the elbow is improbably positioned.
Tiger Striping – When dirt, debris or pollen build up near the lip or edge of the gutter, they can absorb and collect water and moisture. This can can cause dirty water to overbreach the edge of the gutter staining and causing mold to grow on the outside of the gutter. Ask us about the experienced technicians and systems we have on hand to prevent and repair tiger striping on repairs and installations.
While gutter repair and maintenance is typically and understandably near the bottom of the honeydo list when it comes to home maintenance, if not taken care of regularly and competently, it can lead to ugly damage, expensive repairs, and reduced value for your home.
Don't let this important task go undone simply because you don't have time. Expert Aurora Colorado Roofers at Elements can make sure your gutters are in good repair for very reasonable rates.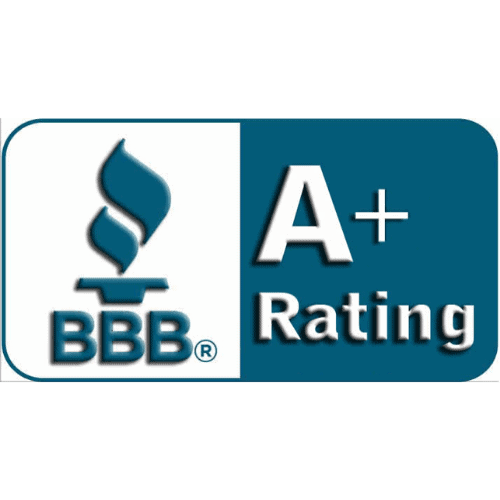 Better Business Bureau Certified
Owens Corning Preferred Contractor
Sterling
123 Broadway Street, Sterling Colorado 80751
Aurora
2292 South Memphis Street, Aurora Colorado 80013